{ Health } WEEK 3 - Body Transformation Overview - February 2016 #inspiringmumsfit
MINDSET | MOVEMENT | MEALS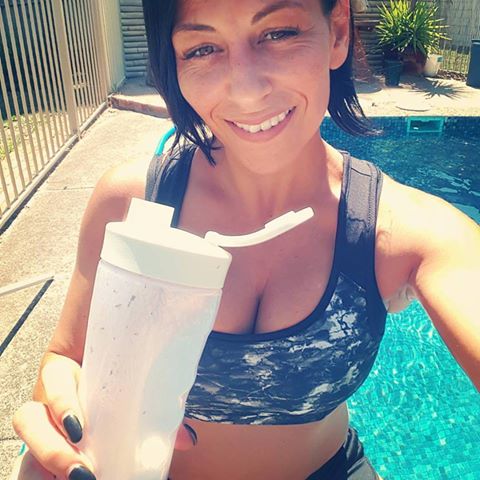 Hey Mummas!
So, it's Week 3 into my body transformation journey and I have BIG NEWS for you, I have been literally working my ass off at the gym 1 hour every day for the last 3 weeks with 1 rest day each week! I have carefully considered what I eat, I have had only 2 cheat days in this time. I have also had a few PT sessions, two just last week.
If you haven't seen on Instagram or Facebook yet, I've lost 4-WHOLE-CENTIMETRES OFF MY WAIST! BOOM - HBOMB IN THA HOUSE! Now, that's what I am talkin about ladies!
RESULTS, RESULTS, RESULTS!
I was very excited and shocked taking the measurement first thing in the morning, so I took a second measurement you know because I was certain it simply couldn't be true! But yes, it was correct :)
**happy bum dance**
Can I be honest with you? When I started this journey, I didn't believe I could do it, it's true, but why? I'm a very capable person, sometimes I have my head in the right space, why would I think I couldn't do this...?
Crazy I know!
I didn't believe that I could be disciplined, focused and dedicated enough to do this and achieve any kind of results! I have shocked myself. So not only have I inspired myself to keep going, I rewarded myself the next day! But not with food which is a common "reward" for all that hard work, I decided to go one step further and go to the gym to workout HARD! I sweated up a storm and made sure my body knew we are in this for the long haul! :) That's how I roll.
I so got this!
Some have said I'm addicted, I'd call it... INSPIRED!
Questions & Answers:
I've had a few questions online which I'd like to address here, that way everyone gets to see the answers because I know some of you just haven't asked yet :)
Question: What made you decide to do the the bikini competition?
Great question! There are a number of reasons actually, here goes:
I am 41 year old mother of two, I have been so tired and unfit for far too long and I wanted to improve my overall wellbeing and stamina.
I've struggled with gut issues for the last 5 or so years, aggravated by increasing food intolerances and extremely low iron levels. Not to mention the shit food I was putting down my throat! I wanted to do something about it. I was sick of being sick! I would wake up some mornings in complete agony across my back because of food intolerances, it's not how to live happily! So I've decided to change it, for good.
I have an exciting top secret project I'm working on, I will reveal all soon and hope you love it just as much as I do! Shhh... ;) This journey is part of that, well it's part of why I started and it helped make the decision to do this much easier because I have the support and sponsors to help me along!
I was looking for a goal to aim for, not just go to the gym and plod along not understanding what the heck I was doing. I wanted to see some serious (and quick) results and see if I am actually capable of the discipline, planning, focus and determination to get up on stage. It takes a bit of courage to get up there in barely anything at all!
I like to evolve each year with Inspiring Mums, it keeps things interesting and brings new people to be inspired. I wanted original, relatable, honest, raw, real, fresh content that will have you wanting to know more and be inspired by. So I am reinventing myself a little.
I like to be up on stage, what can I say, I'm a bit of an extrovert in a way. It's a good way to fuel that desire to inspire and motivate people, confidence and respect from others, especially mums. :) I wanted to do something really different!
I want to improve my mindset health, as I could feel that it was rapidly declining into the dark abyss of depression with some personal issues I have at home. So, to counteract it, manage it better and have some time for me, this was the best option for me and it is working because I haven't been crying as much as I was, yay me. Not saying it will work for everyone, but it has for me.
Last, but not least, I would like to be a positive, health focused role model for my kids. I would like to educate them in healthy eating and the benefits of regular exercise and play outdoors. I'd like them to be less fussy eaters, so my hope is that they will be more accepting of new food soon.
Question: Do your children eat the same meals as you?
No. I'll be honest, I think they ate the same meal I did only twice this week, which is better than usual.
So, you may also want to ask then...
Do you cook separate meals for everyone...?
Yes. I know it's not a great solution and I'm sure as time progresses and my fussy eaters improve their eating, this will improve. My son LOVED LOVED LOVED the slow cooked chicken in leek, garlic, chickpeas, turmeric and sage, he even begged me to make more of it!
I would like to extend special thanks to my dear friend for her lovely surprise gift, I was almost speechless (that's hard for me! LOL) I will be using again this coming Week 4 for more slow cooked chicken and maybe some beef!
Stay tuned for recipes.
Question: Are you following a specific "diet" plan?
No. I know that's hard to believe, but no I am not. I am not on Lite'n'Easy, which is a great alternative. I am considering ordering prepacked foods as I get closer to the comp to make life a little easier for everyone. I am simply using common sense in terms of what I have learned since day one, using the resources I've shared in my first 2 weeks.
Catch Up on my journey!
Catch up on my previous two weeks below. On the panel to the right on this page (or keep scrolling down if on a mobile for "Quick Snapshot" I share more on food etc.
What I've learned this week!
MINDSET
Exercise is well known to help reduce stress and depression.
MOVEMENT
Move consistently, make it interesting and be aware when you are not moving.
MEALS
Plan your meals ahead of time, even for a few days. Takes the pressure off.
I've learned that my body really likes what I am doing and is responding really well, so I am going to keep doing the same, but increase weights gradually.
I've learned that by eating frequently, I don't get the kind of cravings I was having before for nice food.
I've learned that keeping my meals really clean, colourful and simple, without: sauces, salt and processed fats and oils (margarine) has helped to reduce time in the kitchen to spend with my family or time for myself. Basically, I'm not chained to the oven with an apron, maybe once a week when I meal prep! ;)
I've learned that 4kgs is a really noticeable loss in weight for some of my original size, just over 60kgs. I hold most of my weight around my tummy and torso. People have noticed my face and neck change and my skin is looking more youthful and "glowing" I'm told. That's nice :)
I've learned that I am stronger than I thought I was, which has given me so much more confidence!
I've learned that 1 hour training in the gym is really enough to get you started on your weight loss journey, it is a commitment to your future and a great example to set for your kids. It is achievable when you get organised and plan ahead.
I've learned to be more organised! I don't get it right all the time and some days are just all over the place, but planning meals, setting my alarm for food times and meal prepping are key to making this journey less stressful!
I've learned that morning workouts on an empty stomach is the best time for me to workout. I am home by 5am with enough time to do a few things before the kids get up, like blogging. I am energised for the day, I am not so sleepy when I wake up and I am very efficient with my workouts, I get it done, in and out!
I've learned the value of a personal trainer! Someone to push you and show you the best techniques to get the best results and so you don't injure yourself! It's great to have someone there to spot you when you get a sticking point with the weights too.
I've learned that my body is functioning better than ever before, from my mind to my organs, I can feel the difference, one online friend said; "whatever you are doing, keep doing it!" So that's ma'plan ladies!
I've learned that reducing my cardio to give more time to weights will give me the best results I am aiming for to be on stage, thanks to my PT for that tip and a little carbs 20 mins after workout after my protein!
Last but not least, I have learned that out of nowhere, new special people can become your biggest supporters and motivators. I have a friend who has been extremely generous and giving to support me on my journey and it shows she believes in me. So, I have learned to believe in myself and I can actually do this!
With Inspiration & Courage
xHbomb
Quick Snapshot
Weight & Measurements:
Starting Weight: 61kgs | Waist: 88cm
Week 1 Weight: 59
Week 2 Weight: 57
Week 3 Weight: 57 | Waist: 84cm
Energy (food calories) Intake:
Rest Day: 1800 p/d
Workout Days: 2000 p/d
I've tweaked my calories for the days I workout where I need more energy and reduced it for the rest day. Still going with the same % of foods, because it's working!
Carbs 20% (80-100g)
Fats/Oils 30% (67g)
Protein 50% (250g)
Tracking...
this week:
I'm aiming to be more prepared this week going forward into Week 4, doing some meal prepping and planning :)
See my meals as they happen on Instagram!
Basic timetable of my day:
I have set alarms on my phone to go off as reminders to eat! It's really important to increase the metabolism and give the body what it needs to build muscle, lose fat and repair after workouts!
3:45am Wake up, get dressed, drive to Gym
4:00am Gym Cardio: 15mins Weights: 40 mins
5:00am Protein Shake & Banana
5:20am Carbs Small portion of Sweet Potato
7:30am Breakfast eggs/bacon/veg/avocado
10:00am Snack nuts/fruit
12:30pm Lunch Salad/chicken/fish
3:00pm Snack Protein Shake/nuts
5:30pm Dinner chicken/fish/red meat/veg/salad
8:00pm Snack Protein Shake
8:45pm Beauty Sleep 7 hours sleep
This week I had 2 functions that gave me a little cheat food, life is going to give you moments to enjoy with friends and family, as I did, but everything in moderation and working harder at the gym to work it off will help. Everyone should have a cheat meal once a week.
My fitness "idol" if you like, Jillian Michaels, answers an interesting reader's question on cheat days. I think her answer will surprise you! *not sponsored btw :)*
TIP: Always eat breakfast! You may not want to eat 6-8 times a day, at least start the day off well with a good breaky!
Celebrating Success!
This lil mumma went out and enjoyed it! No drinking but some cheat food, but finally feeling good in my red bandage dress, figure hugging and confidence boosting, one of my friends asked if I had a bodyguard to go out ;) I had a shitty following day with some things that came up, I was tired and emotional...BUT I dragged my ass off to the gym for a 10 minute run and 40 minutes of weights and I was feeling 110% better!!!
Feeling more sexy than ever, Reoowww!!
Enjoying time with friends...
Feeling good in my clothes!!
Some not so health focused recipes are also available on our blog, check them out...